​Go horseback riding in the USA or stay on an authentic ranch in the western United States: what rider hasn't dreamed of it ?
Ride in great landscapes on a horseback trail ride in the western USA, learn about traditions, working cattle on horseback on a family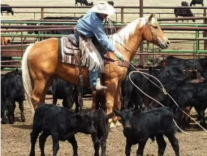 ranch with the cowboys and cowgirls.
In the USA, it's easy to find a horseback riding vacation to make your dreams come true: explore the wide open spaces of the western United States on horseback, drive a herd of horses, herd cattle on a ranch! But sometimes the structures are "tourism factories" in so-called dude ranches ! We have selected small family ranches for you: you will find below our selection of horseback riding and ranch holidays in the USA.