Type
Comfort
Level
Duration
7 days 6 nights - 5 days riding - Inn to Inn
Highlights
An exceptional horse riding trip to enjoy the colors and scents of the sunny Provence !
- Crossing the Provence Colorado;
- Riding among lavender fields;
- Enjoying the perfumes of Provence herbs and lavender, with the sound of cicadas ...
This ride is only offered during the lavender blooming in July !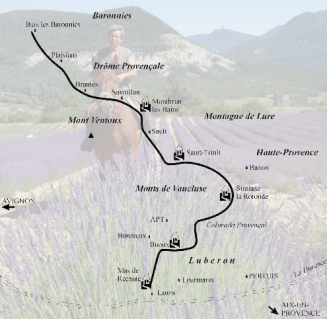 The lavender horseback trail ride in Provence ... a fragrant andcolorful horseback trip from the South of the Luberon nature park to the Provence lavender-growing places: the country of Banon and Sault: the lavender "capital". A perfumed trail ride among the lavender, but also the sage widely cultivated in the region, and riding in the garrigue filled with herbs of Provence. A colorfull horse riding trip: the white limestone cliffs of the Luberon, the greenery of the the pine and oak forests, the ochres of the Provence Colorado, the blue of the sky and lavender. Varied landscapes from Mediterranean Provence to the upper Provence, as far as the foot of the Giant of Provence: the Mont Ventoux. This ride is only offered during the peak of lavender blooming in July