Two days across the Camargue to discover the Camargue Nature Park on horseback. An exclusive Cap Rando ! You will discover all aspects of the Camargue Natural Park on horseback: its marshes, rice fields, wild beaches ... and you will be able to admire the Camargue horses, bulls, flamingos and more than 150,000 migratory birds. You will visit a bull herd and participate in the cattle sorting on horseback. This ride is the final part of our riding trip from Luberon to Camargue.
Image programme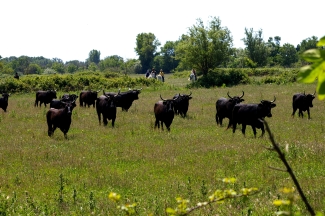 Programme intro
HORSEBACK TRAIL RIDE IN CAMARGUE
INDICATIVE ITINERARY :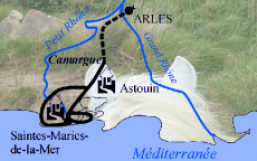 Wednesday: Meeting at 6:30 p.m. at Arles train station or 8 p.m. directly at your hotel in Camargue. Dinner and overnight in a typical hotel.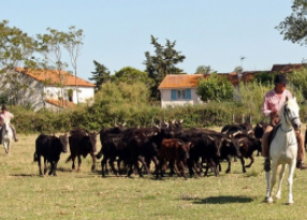 Thursday: Astouin - Visit of a bull herd - Les Saintes Maries de la Mer. On horseback to a ranch called "manade" in Camargue. After an hour on horseback in the heart of the Camargue, you will arrive at the manade. Mathieu, a passionate guardian (French cowboy), welcomes us in front of the enclosure of one of his herds of bulls. We accompany him on horseback to "grab" the bulls, that is to say push them through the marsh to a sorting enclosure. Then he tells us about the "Camargue race", the breeding methods, the traditions linked to the Camargue bulls, then he sorts a few bulls in front of us and ends his performance by offering us an aperitif "the friendship glass". Picnic prepared by our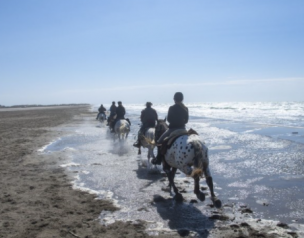 assistant. Then we leave on horseback to Les Saintes Maries de la Mer. After your installation at the hotel, you can go for a walk in the village streets and do some shopping before dinner in a lively bodega in the village, take a tour of the beach, or enjoy the hotel pool. Night at the hotel.
Friday: A morning ride on the beaches. Nice gallops and walk in the sea. The lunch will be prepared at the hotel by your assistant, and the afternoon you will ride along the Vacares lake: you will discover a lot of flamingos and wild birds on a pleasant trail. Transfer to Astouin if you have left your car and to Arles train station.
* The itinerary may be changed if necessary.
MEETING:
If you come by car, drive to the Sylvereal hotel in the heart of the Camargue, arival between 4p.m. and 7p.m. If you come by train, meeting at 7 p.m. at Arles station and free transfer to Sylvereal hotel.

DEPARTURE:
End of your ride in the afternoon at Mejanes, free transfer around 5 p.m. to Astouin if you have left a vehicle, and to Arles station around 6 p.m: book a train after 7 p.m.
RIDING LEVEL:


To participate and enjoy this trip, it is imperative to be comfortable at the three gaits (walk, trot, rapid gallop) outdoors on balanced horses. This ride requires a very good equestrian level, with gaits that can be fast, especially on the Camargue beaches.

RYTHM:
5 hours a day on horseback on average: 2-3 hours in the morning, 2-3 hours in the afternoon, with a long break of around 2 hours at noon. You will ride the three paces: walk, trot, and canter when the terrain allows. Nice gallops in Camargue on beaches.

GUIDE & ASSISTANT:
1 qualified guide speaking French and English + 1 professional assistant ensuring luggage transports and preparing lunch buffets.

HORSES: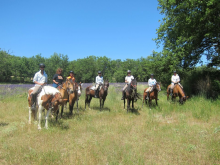 Essentially crosses of Spanish, Arab, French breed. Horses are allocated according  to each rider weight, height, riding level and experience. All our horses are trail riding "professionals". Living throughout the year in a herd, trail riding is their only work activity. For these reasons, they are well-balanced gentle, yet wilfully engaged.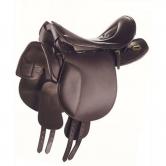 TACK:
Comfortable trail ride saddles equipped with saddle bags. Trail ride saddles are especially designed for long rides as well as for the gaits employed on this type of terrain. The saddles are comfortable for both the horse and the rider.
ACCOMMODATION:
In hotels, double bedrooms or single with supplement.
Subject to availability:

Le Mazet
MEALS:
Taken in the evenings in typical Camargue restaurants. The first evening at the hotel, the second evening in a bodega in Saintes-Maries-de-la-Mer. At noon, an assistant prepares hearty buffets.
Infos tarif
2023 PRICE / PER PERSON:
2 person bedrooms: 650 €
Single bedroom supplement: 100 €
Booking fees: 15 €
THE PRICE INCLUDES:
Equipped horse rental, guide, local cowboy "gardian" for the bull activity, assistant and minibus ensuring the preparation of lunch buffets and luggage transport, accommodation, meals, drinks (water and wine during meals), free return transfer to Sylvereal, free transfers from / to Arles train station at fixed times, financial guarantee of your payments by our travel operator deposit.
THE PRICE DOESN'T INCLUDE:
Individual insurance, drinks excluding water and wine during meals, possible visits, tips, everything that is not indicated in "the price includes".
INSURANCE (if you don't already have one):
We offer to European citizens (only) Chapka insurances:
Cap Security: full insurance with cancellation. Cap Cancellation: cancellation only.
See prices & information
How to book
HOW TO BOOK :
By booking with Cap Rando, you get the benefit of the French travel agency law, one of the strictest in the world: an unlimited financial guarantee for all your payments !

BOOKING PROCEDURE:
1. CHECK THE AVAILABILITY, PRICE, DISCOUNT:
Check the availability and price (depending on the type of accommodation and after possible discounts) by contacting us through the availability & quote request form or by phone +33 (0)483431321, whatsapp +33(0)609520324, or e-mail: contact@horsebackridingvacations.eu
If you already have received the confirmation of the availability and the price, you can proceed directly to your booking:

2. BOOKING:
Fill out the online registration form: https://www.horsebackridingvacations.eu/form/booking-form
If you are registering and paying for several riders, you can add riders on the form.
If you have difficulty with the online form or if you prefer:
- Download the Excel file
- Download the Open Office file
To be completed, saved on your computer, and sent by email as an attachment.

3. INSURANCES:
Cap Rando is covered for its professional civil liability: GENERALI contract n ° AL974010.
To register on a Cap Rando holiday, you must be covered by an individual liability insurance covering your activity, individual accident, assistance, repatriation, and possibly cancellation (strongly recommended not to lose your payment in case of cancellation for a reason covered by a cancellation insurance).
We offer to Europe Union & Switzerland citizens (only) to subscribe the "Cap Security" insurance from Chapka Insurance. This covers you for cancellation, interruption of stay, individual accident, assistance 24h / 24h, repatriation, medical expenses abroad, luggage insurance, civil liability. You can also only subscribe a "Cap Cancellation" cancellation insurance if you have insurance covering other risks. 
See all information about our cancellation policy and Chapka insurance offer.
For non Europe Union citizens: if you pay by credit card, depending on your card, you may be fully covered: check your contract.
The US citizens can subscribe directly an insurance for instance on: https://www.axatravelinsurance.com/

4. PAYMENT:
- For a stay starting at more than 60 days: It is requested at registration: 30% of the price of the stay, the payment of the insurance possibly subscribed, the transport possibly requested, the booking fees. The balance is to be paid 60 days before the start date of the stay.
- For a stay starting at less than 60 days: Full payment is requested upon registration.
- For a stay starting at less than 21 days: Full payment by credit card or instant transfer is requested upon registration.
- If these are the last places available: Payment by credit card or instant transfer is requested.
You can pay:
- By credit card on our secure payment website: You will be directed to the payment link after completing the online booking form.
- By bank transfer: Our bank information will be sent to you after reception of your booking form.
Your payments are guaranted by our GROUPAMA travel agent bond.
If you book a trip through Cap Rando, you have the guarantee not to loose any payment. 
The French law is the strongest and requires all French travel agencies to have an unlimited financial guarantee for their customers in case of financial failure.

5. CONFIRMATION:
You will receive a confirmation file and contract with the invoice and all practical information within 24 hours after reception of your registration form and payment.

6. CANCELLATION POLICY:
See the cencellation policy: cancellation conditions.
Please note: Any stay may be canceled in the event of insufficient bokkings to ensure the stay up to 21 days before the starting date. In this case, a replacement stay may be offered to you, if it does not suit you: full refund is guaranteed without compensation. We advise you to book refundable transports.
GUEST REVIEWS
Nicolas - Mai 2021
Deux jours géniaux à cheval en Camargue avec Orane, notre guide, et Pierrot pour l'intendance. Je ne peux que vivement recommander ! Merci Orane pour cette remise en selle au top, Pierrot pour l'intendance impeccable, et au plaisir de randonner de nouveau avec vous!