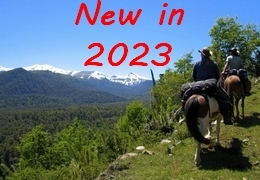 DISCOVER OUR NEW 2023 DESTINATIONS & EQUESTRIAN HOLIDAYS :

 : Special offer on bookings received in January :
- A new summer Inn to Inn trail ride in Provence to the sound of cicadas 


- A rustic and cheap ride in the Vercors in addition to our more comfortable great Vercors crossing trip
- An active ride in Catalonia as well as a renewed and expanded offer on horseback in Catalonia and Costa Brava
- A ride with breathtaking landscapes in the Spanish Europe Peaks
- A ride in the Spanish Pyrenees launched in 2022: our riders loved it ! 


- In Andalusia: a Doma Vaquera course and a beautiful trail ride in the Sierra de Andujar and the Sierra Morena
- Romania with a Cap Rando guide off to new adventures !
- In Canada: a ranch stay in Saskatchewan
- In the USA: horseback trail rides and cattle work in Wyoming 


- Crossing the Andes between Argentina and Chile on horseback
- The Jordan in winter now offered with more comfort: 2 nights in comfort camps in "bivouacs" formula and "comfort" 

or "luxury" formulas and a new cheaper ride in Jordan in comfortable camps with the visit of Petra not included if you wish to extend your stay independently !
- A new comfort ride in Morocco between the Atlantic and the Atlas.
Vue en liste
See our rides
Dates

| Départ | Destination | Titre | From | Infos | Durée |
| --- | --- | --- | --- | --- | --- |
| - | Jordan | JORDAN: PETRA, ON THE LAWRENCE OF ARABIA TRACKS IN THE WADI RUM ON HORSEBACK, DEAD SEA OPTION | 1800€ 1700€ | | January to May & September to December / 8 days - 7 nights / 5 days riding in Jordan / 1 day & night Dead Sea option |
| - | Jordan | JORDAN : EQUESTRIAN GETAWAY IN JORDAN, PETRA, RED SEA & DEAD SEA | 1500€ | | January to June & September to December / 8 days - 7 nights - 3 days riding in Jordan |
| - | Romania | ROMANIA : WINTER RIDE IN TRANSYLVANIA | 1100€ 1050€ | CONFIRMED DEPARTURE | 8 days - 7 nights - 5 days riding in Romania |
| - | Jordan | JORDAN: ON THE LAWRENCE OF ARABIA TRACKS IN THE WADI RUM DESERT | 1350€ | | January to May / 6 days - 5 nights - 5 days riding in Jordan |
| - | Jordan | JORDAN: PETRA, ON THE LAWRENCE OF ARABIA TRACKS IN THE WADI RUM ON HORSEBACK, DEAD SEA OPTION | 1800€ 1700€ | LAST AVAILABILITIES | January to May & September to December / 8 days - 7 nights / 5 days riding in Jordan / 1 day & night Dead Sea option |
| - | Jordan | JORDAN : EQUESTRIAN GETAWAY IN JORDAN, PETRA, RED SEA & DEAD SEA | 1500€ | | January to June & September to December / 8 days - 7 nights - 3 days riding in Jordan |
| - | Romania | ROMANIA : WINTER RIDE IN TRANSYLVANIA | 1100€ 1050€ | AVAILABLE | 8 days - 7 nights - 5 days riding in Romania |
| - | Jordan | JORDAN: ON THE LAWRENCE OF ARABIA TRACKS IN THE WADI RUM DESERT | 1350€ | LAST AVAILABILITIES | January to May / 6 days - 5 nights - 5 days riding in Jordan |
| - | Andalusia | SPAIN: DOMA VAQUERA IN ANDALUSIA | 1150€ | | 7 days - 6 nights - 5 half days riding in Spain |
| - | Argentina & Chile | CROSSING THE ANDES FROM CHILE TO ARGENTINA | 4900€ | 11 DAYS 2 LAST AVAILABILITIES | 9 or 11 days - 8 or 10 nights - 7 or 9 days riding in Chile & Argentina |
| - | Jordan | JORDAN: PETRA, ON THE LAWRENCE OF ARABIA TRACKS IN THE WADI RUM ON HORSEBACK, DEAD SEA OPTION | 1800€ 1700€ | | January to May & September to December / 8 days - 7 nights / 5 days riding in Jordan / 1 day & night Dead Sea option |
| - | Jordan | JORDAN : EQUESTRIAN GETAWAY IN JORDAN, PETRA, RED SEA & DEAD SEA | 1500€ | | January to June & September to December / 8 days - 7 nights - 3 days riding in Jordan |
| - | Romania | ROMANIA : WINTER RIDE IN TRANSYLVANIA | 1100€ 1050€ | AVAILABLE | 8 days - 7 nights - 5 days riding in Romania |
| - | Jordan | JORDAN: ON THE LAWRENCE OF ARABIA TRACKS IN THE WADI RUM DESERT | 1350€ | | January to May / 6 days - 5 nights - 5 days riding in Jordan |
| - | Argentina & Chile | CROSSING THE ANDES FROM CHILE TO ARGENTINA | 3900€ | 9 DAYS | 9 or 11 days - 8 or 10 nights - 7 or 9 days riding in Chile & Argentina |
| - | Jordan | JORDAN: PETRA, ON THE LAWRENCE OF ARABIA TRACKS IN THE WADI RUM ON HORSEBACK, DEAD SEA OPTION | 1800€ 1700€ | | January to May & September to December / 8 days - 7 nights / 5 days riding in Jordan / 1 day & night Dead Sea option |
| - | Jordan | JORDAN : EQUESTRIAN GETAWAY IN JORDAN, PETRA, RED SEA & DEAD SEA | 1500€ | | January to June & September to December / 8 days - 7 nights - 3 days riding in Jordan |
| - | Jordan | JORDAN: ON THE LAWRENCE OF ARABIA TRACKS IN THE WADI RUM DESERT | 1350€ | | January to May / 6 days - 5 nights - 5 days riding in Jordan |
| - | Andalusia | ANDALUSIA : THE SIERRA DE ANDUJAR & SIERRA MORENA | 1495€ | | 8 days 7 nights - 5 days 1/2 riding in Andalusia |
| - | Argentina & Chile | CROSSING THE ANDES FROM CHILE TO ARGENTINA | 3900€ | 9 DAYS CONFIRMED DEPARTURE | 9 or 11 days - 8 or 10 nights - 7 or 9 days riding in Chile & Argentina |
| - | Jordan | JORDAN: PETRA, ON THE LAWRENCE OF ARABIA TRACKS IN THE WADI RUM ON HORSEBACK, DEAD SEA OPTION | 1800€ 1700€ | | January to May & September to December / 8 days - 7 nights / 5 days riding in Jordan / 1 day & night Dead Sea option |
| - | Jordan | JORDAN : EQUESTRIAN GETAWAY IN JORDAN, PETRA, RED SEA & DEAD SEA | 1500€ | | January to June & September to December / 8 days - 7 nights - 3 days riding in Jordan |
| - | Jordan | JORDAN: ON THE LAWRENCE OF ARABIA TRACKS IN THE WADI RUM DESERT | 1350€ | | January to May / 6 days - 5 nights - 5 days riding in Jordan |
| - | Catalonia, Costa Brava | SPAIN: ACTIVE TRAIL RIDE IN CATALONIA & COSTA BRAVA | 1080€ | CONFIRMED DEPARTURE | 5 days - 4 nights - 4 days riding in Spain |
| - | Jordan | JORDAN: PETRA, ON THE LAWRENCE OF ARABIA TRACKS IN THE WADI RUM ON HORSEBACK, DEAD SEA OPTION | 1800€ 1700€ | LAST AVAILABILITIES | January to May & September to December / 8 days - 7 nights / 5 days riding in Jordan / 1 day & night Dead Sea option |
| - | Jordan | JORDAN : EQUESTRIAN GETAWAY IN JORDAN, PETRA, RED SEA & DEAD SEA | 1500€ | | January to June & September to December / 8 days - 7 nights - 3 days riding in Jordan |
| - | Jordan | JORDAN: ON THE LAWRENCE OF ARABIA TRACKS IN THE WADI RUM DESERT | 1350€ | LAST AVAILABILITIES | January to May / 6 days - 5 nights - 5 days riding in Jordan |
| - | Andalusia | SPAIN: DOMA VAQUERA IN ANDALUSIA | 1150€ | | 7 days - 6 nights - 5 half days riding in Spain |
| - | Argentina & Chile | CROSSING THE ANDES FROM CHILE TO ARGENTINA | 4900€ | 11 DAYS LAST AVAILABILITIES | 9 or 11 days - 8 or 10 nights - 7 or 9 days riding in Chile & Argentina |
| - | Jordan | JORDAN: PETRA, ON THE LAWRENCE OF ARABIA TRACKS IN THE WADI RUM ON HORSEBACK, DEAD SEA OPTION | 1800€ 1700€ | | January to May & September to December / 8 days - 7 nights / 5 days riding in Jordan / 1 day & night Dead Sea option |