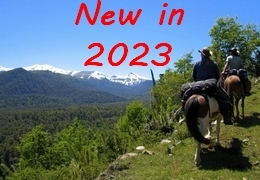 DISCOVER OUR NEW 2023 DESTINATIONS & EQUESTRIAN HOLIDAYS :

: Special offer on bookings received in May !
- A new summer Inn to Inn trail ride in Provence to the sound of cicadas


- A rustic and cheap ride in the Vercors in addition to our more comfortable great Vercors crossing trip
- An active ride in Catalonia as well as a renewed and expanded offer on horseback in Catalonia and Costa Brava
- A ride in the French Alps between France and Italy around the Mont BLanc.
- A ride with breathtaking landscapes in the Spanish Europe Peaks
- A ride in the Spanish Pyrenees launched in 2022: our riders loved it !


- In Andalusia: a Doma Vaquera course and a beautiful trail ride in the Sierra de Andujar and the Sierra Morena
- In Andalusia also: a new stationary ride in the Sierra Nevada and a new 3 days riding shorter version of our great 6 days riding "The Sierra Nevada hidden trails" 
- A new two-week korseback riding trip in Sicily
- Romania with a Cap Rando guide off to new adventures !
- In Canada: a ranch stay in Saskatchewan


- In the USA: horseback trail rides and cattle work in Wyoming


- Crossing the Andes between Argentina and Chile on horseback
- In Jordan a completely renewed offer with more comfort !
- A new comfort ride in Morocco between the Atlantic and the Atlas.
Vue en liste
See our rides
Dates